By Samantha McKenzie
"Gratitude unlocks the fullness of life. It turns what we have into enough, and more. It turns denial into acceptance, chaos to order, confusion to clarity. It can turn a meal into a feast, a house into a home, a stranger into a friend." — Melody Beattie
There's nothing wrong with spending the holiday celebrating with your family and friends, and being thankful for all of the good people you have in your life. There's nothing wrong with counting your blessings and being thankful for the places you have been, the things you have accumulated and the experiences that have enriched your life. There's nothing wrong with it at all.
In this workaholic society that we live in, holidays have become the ideal time to gather with the people we love. For some of us, it's the only face time we have with our relatives. It has become a time we carve out out to relax, eat well and enjoy catching up on each other's lives.
As we join hands around the dinner tables tomorrow and talk about the things we are grateful for, remind each other that the act of giving thanks should be an every day occurrence.
Use the days ahead of you to be thankful for the many roads you have traveled. After Thursday, remember to be thankful for your family and friends. On Friday, be thankful that you woke up to see another day. On Saturday, remember to be thankful for good health, and if you're not in good health, be thankful that you have another opportunity to take care of yourself. On Sunday, be thankful that you have a beautiful house that you've managed to turn into a home.
When Monday rolls around, don't go back to fussing about the little things that cause you undo stress. Don't fall back into the routine of grumbling about having to go back to work. Force yourself to get out of that cycle of complaining about everything – like traffic, your workload, the weather, gas prices, the housing market, the dirty dishes, or the way you think the cashier looked at you.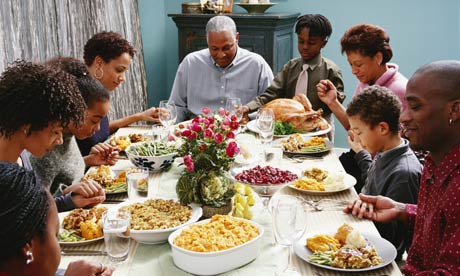 Carry the spirit of Thanksgiving into your tomorrows. Make it a practice to speak out loud something that you are thankful for on a daily basis.
Today, I am thankful for my mother. I've called her 3x in the past 24 hours about cooking. She's been patient during each call. I'm sure she's thinking it would be smarter if I just wrote down the directions, but she willingly takes me through each step of the process. I am thankful that she is still here to always help me.
Tomorrow, I'm sure I will have more to be thankful for.
May we all continue our thankfulness into the future.
Happy Thanksgiving!