By Samantha McKenzie
I didn't know who Alice Marie Johnson was until I read that she was recently released from prison – thanks in part to Kim Kardashian's celebrity, the long-running advocacy of the clemency foundation CAN-DO, friends and family.
Like many others, I celebrated her new found freedom and gave an approving nod to Donald Trump, the President of the United States, for getting this one right.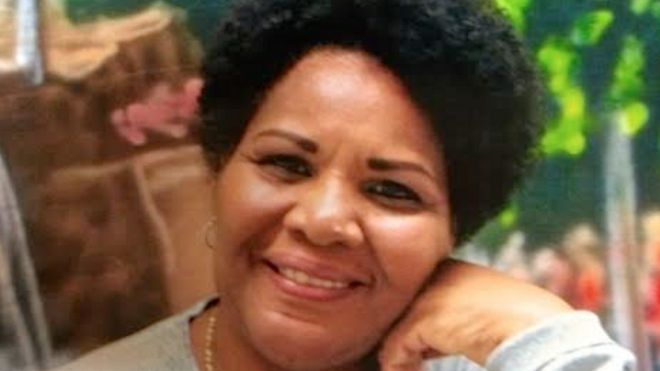 I immediately scurried online to find every and anything about Alice Marie. I read about her case. I studied her face. I absorbed every detail of her experience. I found a way to connect to her, because somehow, this story felt personal. She looked like one of my aunts, or my neighbor, or the kind of grandmother who would be serving hearty plates of food at the church fundraiser.
I reflected back to my reporting days and the research I did about women in prison. They endure a different type of experience from their male counterparts. Female prisoners are more likely to be abandoned by their spouses and support system. Most female prisoners are mothers, which presents an additional burden on them and their children. Female prisons are more likely to be sexually assaulted by prison guards. They are charged for or limited to hygiene supplies, such as tampons and sanitary napkins.  Even after women are released from prison, the stigma of a conviction is difficult to overcome. Because the harsh reality is that women are expected to be better.
What I learned about Alice Marie was that she was a 63-year-old great-grandmother and loving mother of 5. I learned that she had served 21 years of a life sentence and that although she was a first-time offender, she was convicted of being the ring leader in the drug trafficking ring and charged with 8 federal criminal counts. I also learned that through the years, she was a model prisoner and became a mentor to other women she served with. She also became an ordained minister and a playwright. Her name was a part of a 16,000+ list on former President Barack Obama's clemency project just before he left office, but her petition was denied.
What informed me the most about Alice Marie would be her own words. In 2016, she wrote an op-ed for CNN asking for forgiveness and a second chance. In 2018, the news organization republished the updated piece.
In it she wrote:
"Before my incarceration, I had a full life. I married my childhood sweetheart and became the mother to five beautiful children. As the years went on I became a facilitator training people on how to be managers. I was a manager at FedEx for seven years. Life for a time was good. But after almost two decades together and a tumultuous relationship, my husband and I divorced in 1989. It was during this time that my life began to spiral out of control. I lost my job — and — then my youngest son was tragically killed in a motorcycle accident. No mother should have to bury her child. This weight was unbelievable, and it was a burden I couldn't sustain. I made some very poor decisions out of desperation."
Alice Marie went on.
"I want this part to be clear: I acknowledge that I have done wrong. I made the biggest mistake of my life to make ends meet and got involved with people selling drugs.
This was a road I never dreamed of venturing down. I became what is called a telephone mule, passing messages between the distributors and sellers. I participated in a drug conspiracy, and I was wrong. My trial took a toll on my family…During my two decades in here, I've become an ordained minister and a mentor to young women who are also in prison. And if I get out — I have a job secured, and plan to continue to help those in prison and work hard to change our justice system."
I was moved by her words. I wondered if I could have withstood that type of pressure. I didn't see Alice Marie as a victim, even though some can argue she may have been. To me she was a strong and imperfect human being. Although she spend a good deal of her life incarcerated, this woman has always been free.  I heard in her words the deeper meaning of hope. I read between the lines and felt how she embraced her inherent strength – the kind encoded in her DNA and ran throughout the veins of her ancestors that went so far back that it reached time's beginning and touched the Creator.
Of all the stories I read about Alice Marie, it has been her written word that will remain with me forever, and for that I must thank her.
"Despite the impending announcement, I knew that the show had to go on. I channeled the uncertainty of my future into my play and danced a duet to the Whitney Houston song, "I Didn't Know My Own Strength."
"Hold my head up high
"I was not built to break.
"I didn't know my own strength."
I held on to those lyrics for dear life, because by the time the song was over, I knew my name was not on that list. I found myself repeating one line, "I was not built to break," wrote Alice Marie.
When the show must go on, we channel uncertainty. We pray it out. We cry it out. We sing it out. We dance it out. We talk it out. We run it out.
Because, in the end, we all know that we were simply not built to break.
To learn more about this unbreakable woman, check out Hoda Kotb's interview with Alice Marie and Kim on the Today Show